Education and Events Calendar
AANA Events and Continuing Education Programs
Professional development is at the heart of the AANA's mission. To get the latest information on upcoming events and continuing education programs, visit the AANA website.
Jan
21
Sun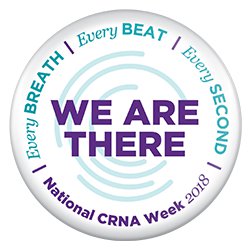 National CRNA Week is the AANA's annual celebration of anesthesia patient safety and the nation's 52,000+ Certified Registered Nurse Anesthetists and student registered nurse anesthetists who safely and cost-effectively provide approximately 43 million anesthetics each year. Known as National Nurse Anesthetists Week as recently as 2014, the new name for this popular event helps patients, hospital administrators, healthcare professionals, policymakers, and others become more familiar with the CRNA credential and the exceptional advanced practice registered nurses who have earned it.
Apr
6
Fri
The New England Association of Nurse Anesthetists (NEANA) will host its annual Spring Meeting on April 6-8, 2018 at the Burlington Marriott in Burlington, MA! Mark your calendar for this important event, which includes industry updates, trending course topics, and a great opportunity to network with your peers! More details coming soon!